Need Help or Have Questions
PRODUCT CENTER
Hot Products
Contact Us
E-mail: sales@hxjq.com
MSN: hxjq@hxjq.cn
Tel: 0086-371-67833161
Yahoo: hongxingmachinery@yahoo.com

Home
>
Products Center
>
Sand Making Machine
> Circular Vibrating Screen
Circular Vibrating Screen
The circular vibrating screen moves in a circular motion. It has multi-layers and is of high efficiency. The eccentric shaft vibration exciter and partial block help to adjust amplitude. The material drops down along the long line.
The Overview of Vibrating Screen
Vibrating Screen is used to separate materials into various sizes for further processing or for end use dependent on your conditions. The material is separated by passing through a vibrating "screen box" which has a number of different sized screens, or meshes, through which the material falls through like a sieve, and to the attached conveyors to become end products. The end products can then be used in the building and construction industries.
Vibrating Screen is widely used for grading and screening materials in the following fields: minerals, quarry, building materials, water conservancy and hydropower, transportation, chemical industry, smelting and so on.
Vibrating Screen Benefits
• Improve your product purity - Eliminate oversized material from your powders and liquids
• Increase your production - Double your throughput with half the size. These vibrating screens achieve a higher throughput per unit mesh area compared to conventional vibrating screens and can achieve throughput rates up to 60,000 kg/hour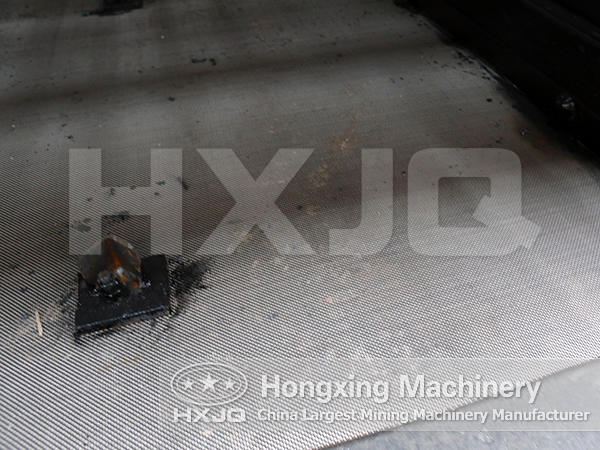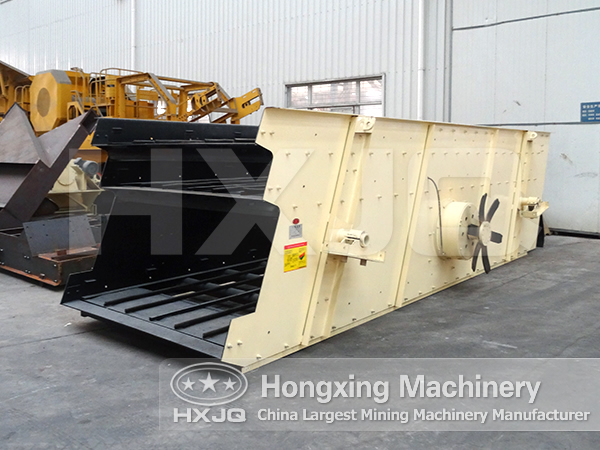 • Reduce your down-time - The Russell Compact Sieve can be easily stripped down and cleaned without tools
• Eliminate dust and fumes - Enclosed screening means total containment
• Fits into smaller spaces - These vibrating screens can fit easily into existing installations and areas of limited headroom
• Lowers noise levels - A solid rubber suspension gives the machine a quiet operation - typically as low as 70dBA
Operating and cleaning is quick and easy, making this range of vibrating screens perfect for all processing industries. A wide range of sizes and options means the machine can be tailored to suit your exact needs.
The usage and maintenance of circular vibrating screen
• Before starting, we should inspect every fasteners bolt if there is any looseness. If there is, we should fasten it one time.
• After the sieve machine has empty motion for 4-6 hours, the sieve body should be steady. No sway and unusual sound and driver bearing temperature ≤7512.
• After idle operation, we should examine every spots spiral and fasten one time.
• In normal work, it should have periodic inspection of every fasteners bolt tight situation.
• Inspect vulnerability, the use and maintenance frequently; please refer to the instruction for use. (vibrating motor should be refueled one time after 3 months, driver be refueled one time every month, a minor repair half year, a overhaul one year.)
• Before parking, you should stop giving the material first and waiting for the screening surface material to walk.
• In the work process you should observe the sieve machine operational aspect continuously; if there is abnormal movement or unusual sound, you should shutdown the machine and check, discover the reason and then remove difficulty.
The purpose is to understand the overall situation of sieve, and to repair or replace damaged, worn parts to make it work. The work includes daily maintenance, regular inspection and repair.
1. Daily maintenance
Check screen surface, particularly the fastening situation of screen surface. If loose, fasten it. Regularly clean sieve surface.
2. Regular inspection
It includes weekly inspection and monthly inspection.
1. Weekly inspection. Check the tightening conditions of exciter, screen surface and supporting devices. Tighten where are loose. Check transmission status and the use situation of locking bolts. Check the belt tension level, if necessary, appropriate tension. When check sieve, pay attention to whether the imbalance weights in the flywheel are fixed reliably. If not reliable, when it is running, the unbalanced weights may be out of the flywheel, resulting into accidents.
2. Monthly inspection. Check the wear condition of screen surface. If find significant local erosion, take the necessary measures, such as exchange location, etc, and re-tighten the screen surface. Check the screen box, check the main beam and the entire main beam welding, and carefully check the local cracks. Check all bolts situation at sieve box side, when find loose between clearance and side bolts, replace the new bolts.
Technical parameters
Model
Sieve
layer
Sieve
area
(㎡)
Mesh
size
(mm)
Max.
feeding
size
(mm)
Processing
capacity
(m³/h)
Vibrating
Frequency
(r/min)
Double
amplitude
(mm)
Motor
power
(kw)
Sieve
obliquity
(°)
Sieve
specification
(mm)
Total
weight
(kg)
Dimensions
(L×W×H)
(mm)
2YK1225
2
6
4-50
400
8-60
800-970
8
6P 5.5
20
1200×2500
3500
2930×1860×870
3YK1225
3
9
4-50
400
10-70
800-970
8
6P 5.5
20
1200×2500
3850
3070×1860×1210
2YK1230
2
7.2
4-50
400
12-78
800-970
8
6P 7.5
20
1200×3000
4200
3430×1860×870
3YK1230
3
10.8
4-50
400
13-80
800-970
8
6P 7.5
20
1200×3000
4600
3570×1860×1210
2YK1237
2
8.88
4-50
400
15-86
800-970
8
6P 7.5
20
1200×3700
4600
4050×1860×870
3YK1237
3
13.32
4-50
400
16-90
800-970
8
6P 7.5
20
1200×3700
5200
4270×1860×1210
2YK1535
2
10.5
5-50
400
20-125
800-970
8
6P 11
20
1500×3500
5890
4120×2210×1230
3YK1535
3
15.75
5-50
400
21-125
800-970
8
6P 11
20
1500×3500
6700
4360×2210×1610
2YK1545
2
13.5
5-50
400
22-150
800-970
8
6P 15
20
1500×4500
6330
5120×2210×1230
3YK1545
3
20.25
5-50
400
22-150
800-970
8
6P 15
20
1500×4500
6800
5360×2210×1610
4YK1545
4
27
5-50
400
22-155
800-970
8
6P 18.5
20
1500×4500
7800
5930×2210×2060
2YK1548
2
14.4
5-50
400
22.5-162
800-970
8
6P 15
20
1500×4800
6980
5420×2210×1230
3YK1548
3
21.6
5-50
400
22.5-162
800-970
11
6P 15
20
1500×4800
7700
5660×2210×1610
4YK1548
4
28.8
5-50
400
22.5-162
800-970
8
6P 18.5
20
1500×4800
8700
6230×2210×2060
2YK1848
2
17.28
5-80
400
25-206
750
8
6P 18.5
20
1800×4800
9080
5420×2550×1420
3YK1848
3
25.92
5-80
400
32-276
750
8
6P 18.5
20
1800×4800
9600
5660×2550×1780
4YK1848
4
34.56
5-80
400
32-285
750
8
6P 22
20
1800×4800
11100
6290×2550×2160
2YK1854
2
19.44
5-80
400
32-312
800-970
8
6P 18.5
20
1800×5400
10150
5960×2550×1420
3YK1854
3
29.16
5-80
400
32-312
800-970
8
6P 22
20
1800×5400
10840
6260×2550×1780
4YK1854
4
38.88
5-80
400
32-336
800-970
8
6P 30
20
1800×5400
12840
6830×2550×2160
2YK2160
2
25.2
5-100
400
50-475
970
8
6P 30
20
2100×6000
11780
6720×2840×1530
3YK2160
3
37.8
5-100
400
50-475
970
8
6P 30
20
2100×6000
12800
7030×2840×1910
4YK2160
4
50.4
5-100
400
50-497
970
8
6P 37
20
2100×6000
14800
7300×2840×2380
2YK2460
2
28.8
5-100
400
65-550
970
8
6P 37
20
2400×6000
15600
7020×3140×1530
3YK2460
3
43.2
5-100
400
70-620
970
8
6P 37
20
2400×6000
17600
7300×3140×1910
4YK2460
4
57.6
5-100
400
80-680
970
8
6P 45
20
2400×6000
19600
7600×3140×2380
2YK2870
2
39.2
5-100
400
120-680
750
8
8P 22×2
20
2800×7000
21200
7600×4320×1620
3YK2870
3
58.8
5-100
400
180-720
750
8
8P 22×2
20
2800×7000
22400
7800×4320×2120
2YK3072
2
43.2
5-100
400
200-700
750
8
8P 22×2
20
3000×7200
23600
7800×4520×1750
3YK3072
3
64.8
5-100
400
230-800
750
8
8P 22×2
20
3000×7200
25500
8000×4520×2300