Need Help or Have Questions
PRODUCT CENTER
Hot Products
Contact Us
E-mail: sales@hxjq.com
MSN: hxjq@hxjq.cn
Tel: 0086-371-67833161
Yahoo: hongxingmachinery@yahoo.com

Home
>
Products Center
>
Sand Making Machine
> Sand Maker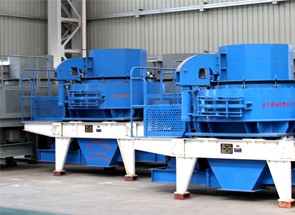 Sand Maker
Major domestic and overseas VSI sand maker manufacturers for the products of performance, domestic machines and major foreign company product is the gap between the full range of, mainly displays in the fool Artificial sand maker customer service customer service, especially before the selection service.
Introduction
The sand maker is the ideal equipment for sand making and building stones reshaping. The high efficiency impact crusher can be used to manufacture ideal dinas and concrete aggregate. As for building stones reshaping, the high efficiency impact crusher ensures that clients get high quality crushed stone with good shape. The sand maker is manufactured with advanced world standard. It features high performance and low consumption. It is irreplaceable among all the fine crushing equipment.
Features
1. The VSI sand maker has high washing cleanliness and causes no pollution or little sand loss during the washing process.
2. Designed with rational structure, novel seal structure, totally enclosed oil bath type gearing and adjustable overflow weir plate.
3. Very little medium sand, fine sand and stone powder loss during the washing process. The grading and fineness modulus of Artificial sand maker are all up to industrial standard.
4. Handling capacity is great and power consumption is low.
5. The Artificial sand maker saves water resources and causes no pollution. It is quite durable.
6. Easy to maintain and convenient to operate.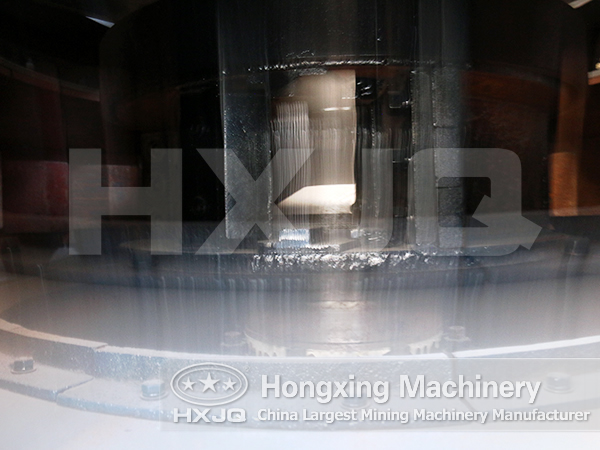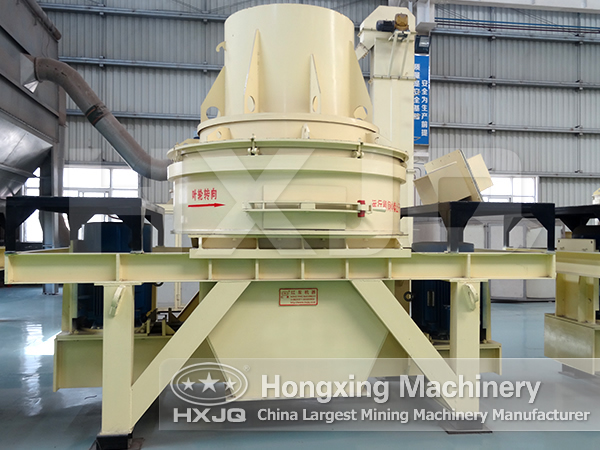 Wider Application of Sand Production Line
This Production line is suitable for crushing granite, basalt, cobble, bauxite, cement clinker, quartz, silicon carbide, mine and iron ore, and it solves the problems of the traditional sand making equipment that only can crush the soft rock less than 150MPa.
High-quality products
With cubic shape, low content of needle and slice particles and high anti-pressure, the final products are suitable for high-standard construction such as water conservancy, bridge, expressway and the high buildings.
There still exists a gap between the major domestic and overseas VSI sand maker manufacturers in product design and services.
Technical parameters
Model
specification
Max.feeding
size
(mm)
Power
(kw)
Rotation
speed of
impeller
(r/min)
Capacity
(t/h)
Overall
dimension
(L×W×H)
(mm)
Total
weight
(kg)
HX-06
35
2P 37-55
2000-3000
12-30
2500×1620×2600
5600
HX-07
45
4P 55-75
1500-2500
25-55
2700×1760×2800
7600
HX-09
50
4P 110-150
1200-2000
55-100
3900×2000×3070
12600