Need Help or Have Questions
PRODUCT CENTER
Hot Products
Contact Us
E-mail: sales@hxjq.com
MSN: hxjq@hxjq.cn
Tel: +86-371-67833161
Yahoo: hongxingmachinery@yahoo.com

Home
> News & Events
How to Correctly Add Reagent to the Flotation Machine?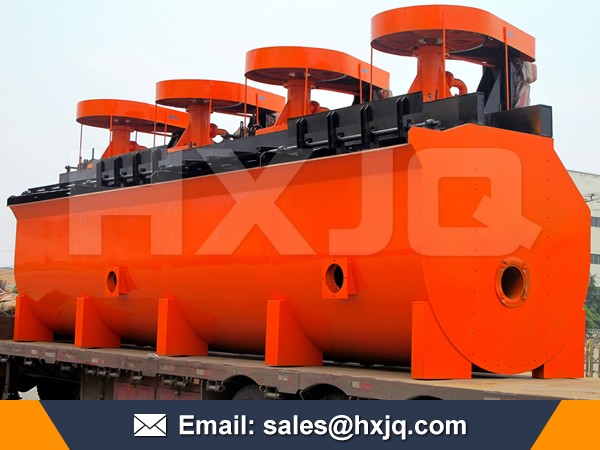 Flotation process completes the material separation through the auxiliary effect of flotation reagents; the correct adding of reagents has a direct effect on the flotation indexes. The technical personnel of Hongxing Machinery will explain how to correctly add flotation reagent in details for you, so as to ensure the flotation indexes. The adding of flotation reagent has four aspects: reagent types, adding sequence, adding quantity, adding place and methods.
1.The types of reagents.
The flotation reagents can be divided into collector, frother and adjusting agent. Collectors can change the hydrophobicity of mineral surface to make the particle adhesion floate in a bubble; foaming agent is the organic surfactant distributed in the water gas interface; adjusting agent includes activator and inhibitor, which can change the nature of mineral surface, and it has effects on minerals and collectors.
2.The adding sequence.
The adding sequence for ore flotation in flotation plant is generally the adjusting agent, PH inhibitor or activator, foaming agent, collector; inhibited flotation is the mineral activator, collector and frother.
3.The adding quantity.
The adding amount generally needs to be determined by the test, flotation reagent quantity should be perfect, and whether the amount is insufficient or excessive will have influence on the processing performance, excessive use will increase the higher cost of ore dressing operations.
The relationship between the various pharmaceutical dosage size and flotation indexes is that when the collector dosage is insufficient, hydrophobic mineral will be not enough, so that the recovery rate will be decreased, excessive dosage will decrease the concentrate quality, and give the flotation separation of difficulties; when the amount of foaming agent is insufficient, the foam stability will be poor; if the amount is too large, the 'running slot' phenomenon will occur; if the activating agent dosage small, activation is not good and the dosage is too large, it will destroy the selective flotation process; if the inhibitor dosage is insufficient with the low grade of concentrate, overdose can make the mineral inhibited, so that the recovery rate will be decreased.
4.The adding place and methods.
The adding place is that collecting agent and foaming agent should be added in the first mixing barrel. If the flotation operation has two mixing barrels, you should add activator to the first mixing barrel, while the second barrel should be added collecting agent and foaming agent. Water soluble agents such as xanthate, water glass, copper sulfate are added to form water solution, and the insoluble reagents such as NO.2 oil, black powder can be added directly.