Need Help or Have Questions
PRODUCT CENTER
Hot Products
Contact Us
E-mail: sales@hxjq.com
MSN: hxjq@hxjq.cn
Tel: +86-371-67833161
Yahoo: hongxingmachinery@yahoo.com

Home
> News & Events
Flotation Machine Should Take the Diversified Development Road
Flotation machine is the equipment to complete the flotation process, which is also called flotation cell. It is widely used for the rough, fine and reverse flotation operations of copper, lead, zinc, nickel, molybdenum and other non-ferrous metal, ferrous metal and nonmetal minerals. The types of flotation machine mainly include mechanical agitation flotation machine and froth agitation flotation machine. Meeting the needs of the domestic market has made the stretched development of flotation machine; only developing into the world direction is the best way to motivate its development potential, the high performance of flotation machine has been recognized throughout the world. Facing the future, we should take more diversified development paths, the flotation machine performance has to adapt to a new historical height.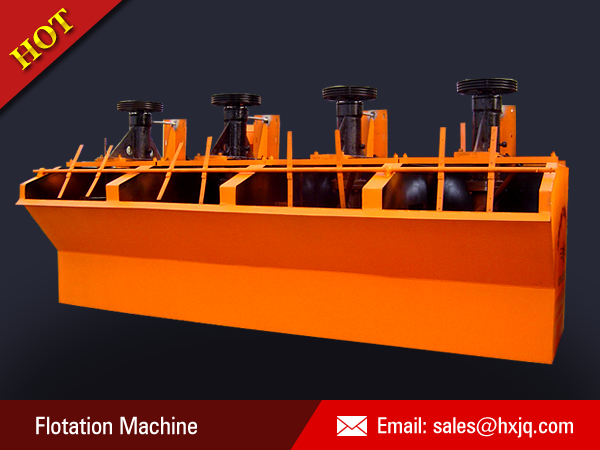 As the most extensive development, flotation machine has the earliest application. According to the different filling ways, the flotation machine can be divided into pneumatic flotation machine and the self suction type flotation machine. Inflatable flotation machine is a kind of equipment that low pressure air is filled in the flotation tank, flotation machine f dispersed bubble by mechanical stirring device. It is characterized in that the aeration quantity can be adjusted according to the need of production, which has wide application range and good performance. Flotation machine has an absolute advantage in the flotation equipment industry, but due to the provision of air compressor, its power consumption is higher than the self suction type flotation machine. Mechanical stirring device is stirring to produce negative pressure and suction air. The dispersed bubble flotation equipment is characterized by low power consumption, but the inflation quantity adjusting range is narrow and small application area. The development direction of flotation machine summarizes the generation of flotation machine adopts large-scale, which can realize the computer automatic control.
Hongxing Machinery is an experienced manufacturer of flotation machine, in addition to agitation flotation machine and mechanical flotation machine, we also produce froth flotation machine and copper ore flotation machine. The flotation machine of our company has favorable price, high performance and complete after-sales service. Customers are welcomed to pay a visit to our company!