Need Help or Have Questions
PRODUCT CENTER
Hot Products
Contact Us
E-mail: sales@hxjq.com
MSN: hxjq@hxjq.cn
Tel: 0086-371-67833161
Yahoo: hongxingmachinery@yahoo.com

Home
> News & Events
Protecting Hammer Crusher Starts from the Hammer
Hammer crusher is mainly used in the secondary crushing or fine crushing for medium hardness material, with a wide range of applications in mining, metallurgical and other industries, and also one of the most popular crushers now. Under normal circumstances, the hammer crusher runs stably without major failures. The most delicate parts of hammer crusher mainly include: the hammer, hammer plate, grate bar, scaleboard, etc. So we must start small to protect the hammer crusher. Firstly, we would like to talk about the problems of this equipment.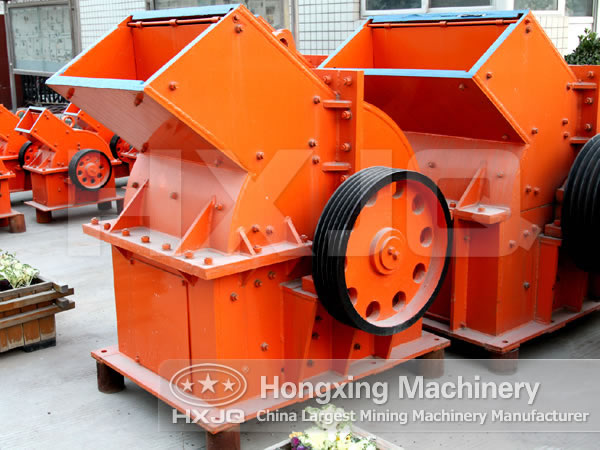 Nothing can fully achieve accuracy, and what we say are usually the theoretical data and the actual operation data, between which there is bound to exist errors, so generally there is a small gap between the casting weight of the hammer and the theoretic data, thus causing the service life and wear-resisting degree of the hammer not so good as the preset. In addition, the hammer has to timely accomplish backreaming or overturning in operation according to the current changing, which aggravates the wear to a large extent.
In order to reduce the impact of these problems, we usually need to pay attention to the following aspects. We suggest that the operators should conform to these tips. When changing new hammers, first weigh them with a scale, and then separate them averagely into several groups equal in weight, or it is liable to causing vibration when starting up. Stop to check the gaps between the hammer and screen and those between the grate bars. Make adjustments when necessary, and change the grate bars on time, for the cost of hammer is much higher than that of grate bars.
Hongxing Machinery is a large scaled machinery manufacture in domestic with good reputation and strong competitiveness. If you have any questions in operation, please inquiry us immediately and we'll spare no effort to give you an satisfactory answer. Welcome to your consultation!