Need Help or Have Questions
PRODUCT CENTER
Hot Products
Contact Us
E-mail: sales@hxjq.com
MSN: hxjq@hxjq.cn
Tel: 0086-371-67833161
Yahoo: hongxingmachinery@yahoo.com

Home
> News & Events
Seven Advantages of the Ball Mill Bearing
Seven advantages of the ball mill bearing:
1. The bearing adopts thin oil lubricants, reducing the friction coefficient of the bearing to a minimum, with good power saving effect.
2. The normal temperature for bearing operating is much lower than that of the bearing adopting dry oil lubricants, prolonging its service life.
3. Due to the diameter of the rolling bearing increases, it forms a radius difference with the average diameter of the hollow shaft, which has a certain effect on improving the oil level of thin oil lubricants and reducing the thin oil spillovers.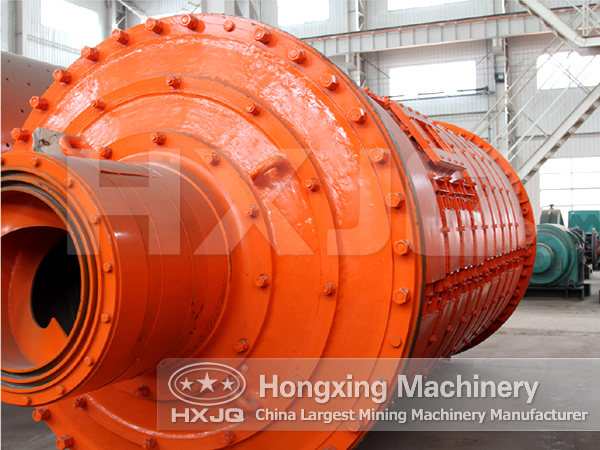 4. Remove a bearing outer top cover which presses the bearing tightly to prevent dust from entering the bearing box, maintain good oil quality, and ensure the service life of the bearing.
5. The bearing seat is equipped with oil pointer for observing the oil level, make it easier to know the oil level and supply oil timely, avoiding poor lubrication to the bearing and bearing damages caused by lacking of oil lubricants.
6. Set a flange connection terminal between the hollow shaft and the front-rear spiral drum, and link with the flange connection on the front-rear spiral drum. On the end face of the hollow shaft from thick to thin, set a flange to prevent the bearing shaft from fleeing out.
7. Thicken the diameter of the hollow shaft on the rolling bearing and enlarge the radial distance between the rolling bearing and the front-rear spiral drum, having a effect on radiative cooling, conductive to cooling the bearing and prolong its service life.
The above simply introduces the advantages of the bearing which play an significant part in ball mill. During the usage process we shouldn't ignore its maintenance in order to ensure the service life. If you are interested in our ore dressing ball mill, coal ash ball mill, quartz sand ball mill and so on, welcome to Henan Hongxing Mining Machinery Co., Ltd.